Policy
The Gigabit Internet Dream Continues to Expand
Cable gigabit service availability continues to expand – as of June 2018, 63% of U.S. housing units – 74% of the cable broadband footprint – had gigabit service or better available from their local cable operator. This is up seven percentage points in just three months and has expanded by 16X in 18 months. Cable is making the gigabit Internet dream a reality. Coincident with this update of the cable industry's gigabit deployment data, we are also releasing a new installment in our Inform[ED] Insights series that explains the technology that enables these gigabit networks.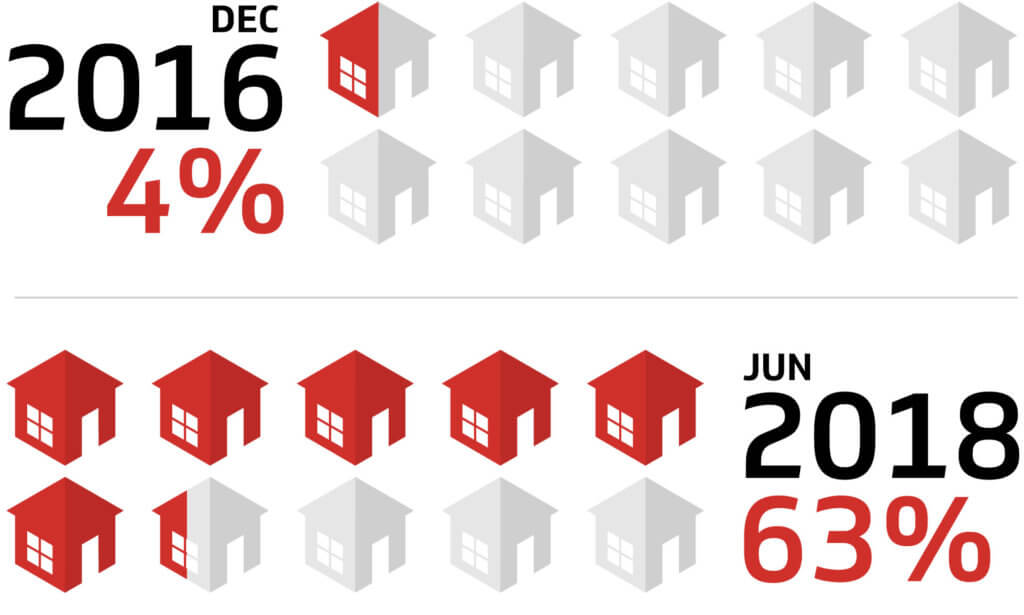 Cable's deployment of high-capacity broadband networks is enabling the gigabit services of today and the symmetric multi-gigabit services of tomorrow. With the wide availability of gigabit service and beyond, the broadband infrastructure is in place to power emerging technologies that will transform and enhance our lives through immersive entertainment, next-generation healthcare and a reimagination of education and work.
CableLabs and the cable industry are continuing to advance the capacity and performance in each segment of the cable broadband network to remain well-ahead of consumer demand. We are focused on developing innovative network technologies in the areas of coax (e.g., DOCSIS 3.1 and full duplex DOCSIS), fiber (e.g., coherent optics in the access network), and wireless (e.g., Wi-Fi and 5G), as well as defining optimal network architectures to provide the necessary capacity and performance in each segment of the network for today's gigabit services and those anticipated in the future.
Ready to see how the cable industry is driving gigabit speeds from the lab to the consumer? Click on the link below to download our new Inform[ED] Insights white paper.
Innovation
Living the Gigabit Internet Dream
"Gigabit" is the Internet dream. It means connectivity at blazing-fast speeds, with enough bandwidth for any device imaginable, where the online world is your oyster. Cable is rapidly making this dream a reality by making gigabit Internet service available to consumers.
Looking back just a couple of years, the prospect of widely available gigabit service was unimaginable. As of December 2016, only 4% of US housing units had cable gigabit available. In just fifteen months, cable operators in the US have increased that number by 14X. CableLabs regularly surveys our members, and we know that as of March 2018, 56% of US housing units – 66% of the cable broadband footprint – had gigabit service or better available from their local cable operator. That number is poised to climb higher as DOCSIS 3.1 technology is deployed across cable networks.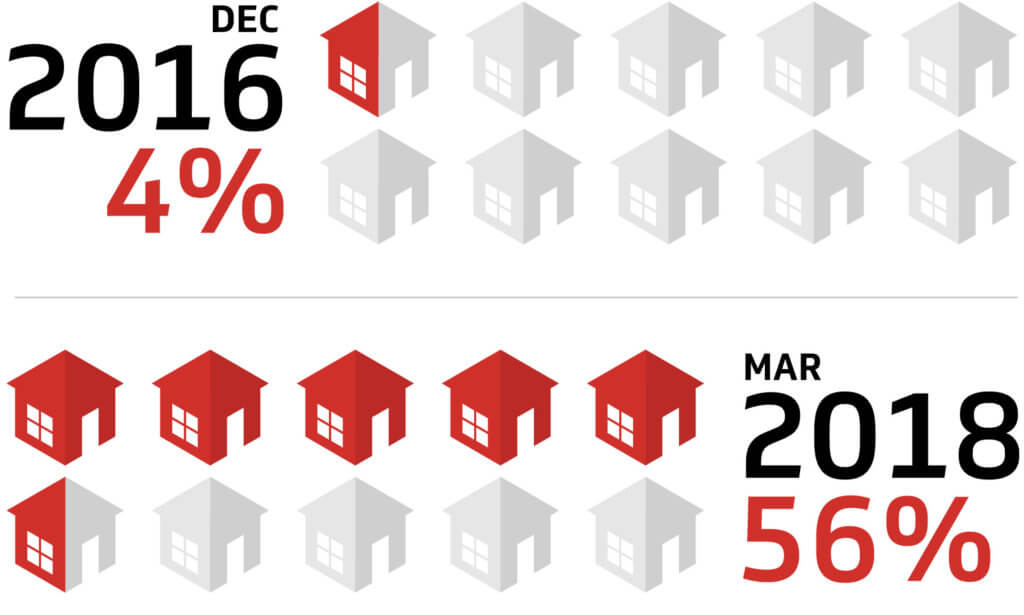 But, This is Only the Beginning of the Story
CableLabs and the cable industry are investing in further network innovations to enable broadband technology to stay well ahead of customer demand for years to come.
Over the past 35 years, available consumer Internet speeds have followed what is known as Nielsen's Law, increasing at roughly a 50% compound annual growth rate. Gigabit service is just the latest step in the history of ever-increasing speeds. If past is prologue, we can expect to see the availability of 10-gigabit service offerings around 2024, enabling experiences that are difficult to imagine today.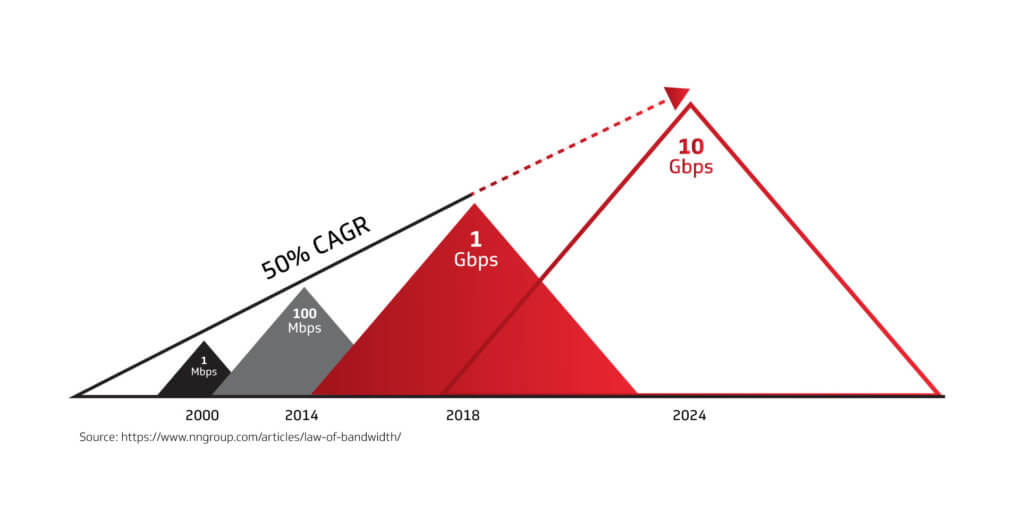 Pushing the Gigabit Internet Envelope
The cable industry is preparing for our ever-faster future. We're examining each segment of the network and developing new technologies to advance the performance of cable networks. The main elements of our work to drive further capacity and performance are:
DOCSIS: CableLabs is currently working to commercialize the next generation of DOCSIS technology. Full Duplex DOCSIS 3.1 will enable cable operators to provide symmetric gigabit service to customers – eliminating the upstream constraint and fully unleashing the power of cable.
Fiber: To ensure sufficient capacity in the fiber portion of the cable network, CableLabs has focused on adapting coherent optics. Coherent optic technologies have the potential to increase the per-strand capacity in cable networks by orders of magnitude over currently available digital optics technologies. This is an essential element in cable's fiber-rich networks to deliver greater performance for consumers.
Wireless: We all experience our broadband service through our Wi-Fi connection. So, our ability to take full advantage of cable network advancements depends on the performance of that Wi-Fi connection. To ensure the reliability and improve the overall performance of Wi-Fi, CableLabs has developed protocols for Wi-Fi proactive network maintenance (Wi-Fi PNM) to quickly solve connectivity problems, advanced global standards for Wi-Fi to usher in next-generation technologies, and increased wireless bandwidth through spectrum policy engagement.
The continued innovations of CableLabs and the cable industry have enabled cable operators to provide broadband service that is well ahead of consumer demand. Cable networks are high-capacity, efficient, and future-ready to meet ever-increasing consumer demand for broadband performance.
For more information on how the cable industry is driving gigabit speeds from the lab to the consumer, please click below. 
Events
CableLabs Hosts "Cyber Risks in an IoT World"
Security provides the fundamental trust that enables the growth of broadband, and as the number of connected devices grows rapidly, all actors must make it a priority. The cable industry's security expertise and investment positions it to play a constructive role in this rapidly evolving, global challenge. Here at CableLabs, we continue to focus on cybersecurity in our innovation and R&D work, and we recognize the interdependence of public policy and technology developments in this area.
In that spirit, we recently hosted an event at our facilities in Colorado entitled Cyber Risks in an IoT World, which was co-presented by the Rocky Mountain Chapter of the Federal Communications Bar Association (FCBA) and Silicon Flatirons. Our primary goal was to shine a spotlight on key elements of federal cybersecurity policy and the evolving risk faced by enterprises in light of the rapid proliferation of Internet of Things (IoT) devices. The event featured Evelyn Remaley, Deputy Associate Administrator at the Office of Policy Analysis and Development of the National Telecommunications and Information Administration, U.S. Department of Commerce, among other notable speakers and attracted over 60 attendees from the local and regional technology policy and legal communities.
CableLabs' Rob Alderfer kicked off the event by laying out the broader context, including the trends that are driving increased risk to consumers and the basic functionality of the Internet.  With the constant barrage of new cyber incidents, often driven by IoT devices vulnerable to exploitation, governments at all levels are taking notice and grappling with the rapidly evolving threat. Cybersecurity is no longer the domain of the IT department, but rather a key area of governance for all enterprises. You can read more about our vision for improving IoT cybersecurity here.
Clete Johnson (Wilkinson Barker Knauer, LLP) provided a primer on federal cybersecurity policy that cast the Internet and enterprise networks as the battlefields, espionage platforms, and crime scenes of the 21st century. The current regulatory landscape can be subdivided into several broad areas: the threat environment, the policy environment, government activities, and the developing policy consensus across government and industry. The threat environment is characterized by the increasing number of more and more severe attacks. These attacks originate from both non-state actors (organized crime groups, proxies for nation-states, hacktivists, and, potentially, terrorists) as well as state actors (Tier I intelligence services and their allies and partners). However, the line between non-state and state actors often blurs and these groups often overlap. Johnson also detailed the developing policy consensus that centers around dynamic, flexible risk management; a shared responsibility across all stakeholders; mutually beneficial public-private partnerships; and a move beyond the "punish the victim" enforcement. This developing consensus is largely embodied in the Cybersecurity Executive Order and its implementation.
Evelyn Remaley (NTIA) delivered the keynote presentation on the Cybersecurity Executive Order, the developing Botnet Report required by the Order, and, more broadly, the NTIA's work in cybersecurity through the multi-stakeholder process. Remaley emphasized that NTIA recognizes the complexity of the ecosystem and sees it as a multi-textured and evolving global system that requires an agile, inclusive cyber policy approach. Two truths underlay that perspective:
To protect innovation, there must be stakeholder-driven policy outcomes that are flexible enough to adapt quickly to changes in technology
No single industry sector or the government will be able to solve the challenges facing the Internet ecosystem, because while the Internet is largely managed by the private sector, governments, civil society, and individuals all have key roles. Successfully addressing cyber threats requires collaborative efforts from across the Internet ecosystem. The ongoing effort to produce the Botnet Report is an example of this collaborative approach in action.
Panel Discussion with Evelyn Remaley
The panel discussion following Remaley's presentation tackled both baseline questions around the incentives at play in the current IoT ecosystem and the upcoming Botnet Report's role in addressing the risk of distributed threats, as well as practical questions about where the policy development process goes after the final report is released. Mark Walker moderated the panel discussion between Evelyn Remaley (NTIA), Michael Bergman (Consumer Technology Association), and Tracy L. Lechner (Brownstein Hyatt Farber Schreck, LLP). The panelists discussed the incentives misalignment that keeps a significant number of IoT providers from investing in better device security, including the perception that consumers do not place a significant value on security and that increased security comes at a significant cost (time and/or money). They also discussed the availability of effective security controls and the various industry efforts to drive increased adoption of those controls.
Panel Discussion on Risk Landscape for Enterprises
The final session entitled The Risk Landscape for Enterprises: Attacks, Recovery, Liability, and Compliance covered the cybersecurity threat landscape from the enterprise perspective. This panel was moderated by Blake Reid (University of Colorado Law School; Silicon Flatirons) who lead the discussion with Paul Diamond (CenturyLink), John Diana (LogRhythm, Inc.), Ryan Howe (Webroot, Inc.), and Deborah Shinbein Howitt (Lewis, Bess, Williams & Weese, P.C.). The discussion focused on the challenges enterprises of all sizes face when tackling the rapidly changing cybersecurity risk landscape, including limitations on resources and talent, as well as the task of understanding and complying with the numerous legal obligations coming onto the scene. Much like developing a cybersecurity program, building up the required legal policies begins with identifying the most critical data a business handles (e.g., healthcare information, social security numbers, credit card information) and then creating incident response plans that meet the most stringent obligations in those areas first. The NIST Cybersecurity Framework was highlighted as providing an enterprise with a structured approach to assessing cybersecurity risks and developing a robust cybersecurity program that matches its unique needs.
As CableLabs continues to focus on developing new and innovative security technologies, we must continue to ensure we have a sound understanding of the rapidly evolving cybersecurity policy landscape, both here and abroad. But, just as importantly, policymakers should have a sound understanding of current and developing technologies. Events like this help bridge those gaps in understanding.
Security
Cable's Role in Cybersecurity
The cable industry does more than just provide internet connectivity for millions of customers: it also plays an active role in driving security in the broader internet ecosystem. Cable operators have a long history of successfully defending against attackers seeking to steal service, customer data and video content. The cable industry has been protecting the delivery of high-value video content for over 30 years through technology that has never been breached in a successful, scalable manner. Moreover, the industry has been setting fundamental broadband security features through cable internet access standards for over 20 years to ensure the confidentiality, integrity and availability of cable broadband services globally. As the details and motivations of attacks continue to evolve, so does the security incorporated by cable operators.
Of particular focus for CableLabs is the urgent need to address the risks associated with insecure internet-connected devices ("Internet of Things" or "IoT"). IoT represents the next major axis of growth for the internet. But, without a significant change in how IoT providers approach security, the explosion of connected devices increases the risk to consumers and to the basic functionality of the internet. The consensus forecast has the number of devices connected to the internet doubling (or more) between 2016 and 2020. To the extent these devices do not contain sufficient security, the number of potential attack vectors will multiply rapidly as IoT proliferates.
A Comprehensive Approach to Addressing Insecure IoT
A combination of mitigation and prevention is necessary to fully address the current and emerging threats posed by insecure IoT. The cable industry recognizes that addressing these security risks (e.g., botnets) is a shared responsibility across the entire internet ecosystem. To this end, cable operators have invested substantially in developing and deploying measures to reduce the risks associated with insecure IoT, including DDoS and other botnet attacks, with a primary focus on protecting networks to ensure the availability of broadband service.
Mitigation
Cable industry efforts to improve measures that seek to mitigate attacks against their networks and their customers include both individual and collaborative measures:
The development and advancement of compromised-device detection and identification systems
Customer notification and remediation programs
Distributed denial of service (DDoS) monitoring and mitigation systems
IP-address spoofing prevention technologies and cybersecurity information sharing systems
In addition to maintaining and expanding these existing techniques, CableLabs and cable operators are also working on next-generation networking technologies to help reduce these risks.
Prevention
Although Internet Service Providers (ISPs), including cable operators, have been working on mitigating the effects of compromised and insecure devices for more than 15 years, these efforts ultimately only address the symptoms and not the root cause of the problem. The challenge of this task has already begun to outpace current and anticipated techniques. Unfortunately, IoT providers have not generally incorporated the needed security measures or committed to maintaining the security of their IoT devices. To fully address the risks posed by insecure IoT devices, IoT providers must drive increased security into future connected devices. Preventing compromised devices must be a substantial part of the industry's shared responsibility in addressing the risks posed by insecure IoT to consumers and the internet.
Increasing IoT Security through an Industry-Led, Standards-Based Approach
Industry-led standards represent the most promising approach to increase IoT security. Given the global and constantly evolving nature of threats, the industry must utilize its expertise with a goal to develop, adopt and enforce fundamental IoT security measures. To achieve the needed level of security, an IoT security standard must address:
Device identity
Authentication, authorization, and accountability (onboarding)
Confidentiality
Integrity
Availability
Lifecycle management
Future (upgradable) security
A robust technical standard is necessary, but not sufficient. To establish value and credibility in the marketplace, an open and balanced development organization must be established to ensure due process and consensus, drive widespread adoption of the standard, address the intellectual property rights of participants and ensure conformity through strong certification testing and enforcement of the standard.
To this end, CableLabs and a number of cable operators are actively engaged in the Open Connectivity Foundation (OCF). The OCF is an industry effort to develop an open specification to enable connected devices to securely communicate with one another regardless of manufacturer, operating system, chipset or physical transport. OCF membership is broad-based with over 300 members, including leading companies at all levels of the IoT space – silicon, software, platform and finished-goods. CableLabs and Comcast hold board seats and CableLabs chairs the Security Work Group of OCF. In addition, CableLabs contributes to IoTivity, a Linux Foundation Collaborative Project sponsored by OCF, which provides an open source reference implementation of the OCF specification that will further enable broad adoption.
Engaging with the Broader Internet Ecosystem
CableLabs and the cable industry have enabled cable-based security technologies to be leveraged in the wider internet ecosystem, including in Wi-Fi hotspots, smart grid devices and medical communications, through CableLabs' subsidiary, Kyrio. The cable industry also provides broad-based technology thought leadership on security through substantial contributions to the Internet Engineering Task Force (IETF), the Messaging, Malware and Mobile Anti-Abuse Working Group (M3AAWG), Wi-Fi Alliance and the Broadband Internet Technical Advisory Group (BITAG), among other leading technical bodies.
Broadband service continues to become more integral to economic activity and social connectivity. The number of connected people and devices continues to grow, as does broadband network capacity and performance. Security provides the fundamental trust that enables these trends, and as the internet ecosystem grows, all actors must make it a priority.
You can find more information about CableLabs' role in securing the future in our Inform[ED] Insight papers "A Vision for Secure IoT" and "Securing Networks in the Broadband Age."
Education
Enabling the Transformation of Education
Education, like every other part of life, is being fundamentally transformed by the ubiquity of connectivity and inexpensive computing and storage. Technology is enabling this transformation, but it is driven by the much broader trend in the economy — the transition of the workforce from a manufacturing economy to a knowledge economy.
On July 19-20, CableLabs hosted an Education Summit that brought together thought leaders from across the education sphere and the cable industry to explore the current challenges facing education as well as those of the future. The education system is beginning to see the transformative potential of technology — whether through "one-to-one" initiatives, integration of virtual reality, or gamification. Through the two-day event, three trends stood out in driving a fundamental transformation of education.
Fundamental Shift Toward Experiential and Problem-based Learning
Not surprising to anyone, the need to memorize facts has been largely replaced by Internet search, but unfortunately, the education system is still catching up.  The skills for the jobs of today and tomorrow require problem solving, critical thinking, creativity, communication, and collaboration, all skills that are most readily developed through experiential and problem-based learning.
Experiential and problem-based learning can take many forms — "curriculum built on inquiry, project-based learning, internships, service-learning, and entrepreneurial innovation bring the relevance of academic content and simultaneously develop" the necessary skills for the workforce of tomorrow.  The current emphasis to more broadly include the development of computer programming skills melds well with a project-based focus, whether developing apps, games, or websites, applying computer science to solve a real world problem is the key.   Project-based learning is not limited to the digital world.  Makerspaces enable students to create and solve physical world problems using the latest in prototyping and machining technology — 3D printers, CNCs, laser cutters, etc. The key is enabling students to meaningfully contribute to addressing real world problems in their communities.
One amazing example of community-relevant, problem-based learning is the Global Earthquake Forecasting System, which teamed NASA researchers with Alaska high school students in Ketchikan, Kodiak and Old Harbor — where earthquakes and tsunamis pose a significant risk. "Using new cutting edge sensing instruments, the students collect and analyze data used to detect early signals that occur prior to an actual earthquake event. Their findings are then reported to NASA project managers."  For their earthquake forecasting work, the Kodiak high school team was awarded first place in 2015 NASA World Wind Europa Challenge, "an annual university-level competition that provides an opportunity for the world's 'best and brightest' to deliver sustainable solutions that serve local, regional, national or international interests." Not only were they the first ever submission from a high-school team, but they won.
Disruption of Institutions and Curriculum Creation
Learning is no longer limited to the classroom and technology is enabling a fundamental shift of the role of the teacher – from that of "lecturer" to that of "coach." This new paradigm takes many forms and is often referred to as personalized learning, blended learning, or flipped classroom and all have a similar theme of turning the traditional education model inside out and putting the student at the center of an individualized experience.
This new paradigm allows variation, innovation, and "student input into (and even control of) the time, pace, path, and place of learning." Only with advances in technology and widespread access to connectivity will this new paradigm be able to be implemented effectively, affordably, and equitably.
Ubiquitous connectivity, devices, and inexpensive computing and storage along with low-cost and easy to use tools are also enabling a decentralized approach to curriculum and content creation.  Teachers are now able to easily create their own curriculum and content — free from the confines of the traditional text book.  The tools for creating and integrating media rich content are readily available.  Moreover, platforms, like "Teachers Pay Teachers" enable a market for teachers to exchange the lesson plans and other content they create with other teachers.
Transformative Experience - Immersive and Interactive Virtual Agents
Artificial intelligence (AI) and virtual agents also promise to transform the education experience, just as they will transform entertainment and work.  AI and virtual agents will create a platform to preserve and provide history in an engaging format, never before possible.  One example is the natural language AI created based on the holocaust survivor Pinchas Gutter.  His story will now live on forever through an interactive hologram that can respond to questions about the holocaust and ensure this part of history is never lost.
The promise of AI goes well beyond just preserving history.  It will facilitate an individualized and customized interactive experience that has the potential of providing just the right engagement at just the right time to ensure students can successfully achieve the desired education outcome – true personalized learning.  AI will not only be able to react to the words we use, but will also be able to read and react to our emotions to facilitate a more comfortable and conducive environment for learning.  Using facial and other non-verbal data, the virtual agent will be able to detect fear, frustration, and confusion, among other emotions, to better guide the student's experience.
All of these trends will drive the network and service requirements necessary to serve the education market of tomorrow – a more decentralized, collaborative, and interactive environment.  CableLabs and the cable industry continue to work to develop the technologies required to support a transforming education system — whether that is through increasing network capacity, improving performance, or enhancing network security, to name just a few of our efforts.